Brandon Williams is an R&B/Soul singer, producer, multi-instrumentalist from Detroit, Michigan. He has worked with Jadakiss, Jazmine Sullivan, or Ryan Leslie. He has also toured with Musiq Soulchild, Jaguar Wright, or even The Isley Brothers. Last year, Brandon Williams released his debut album, "XII". Let's get to know him.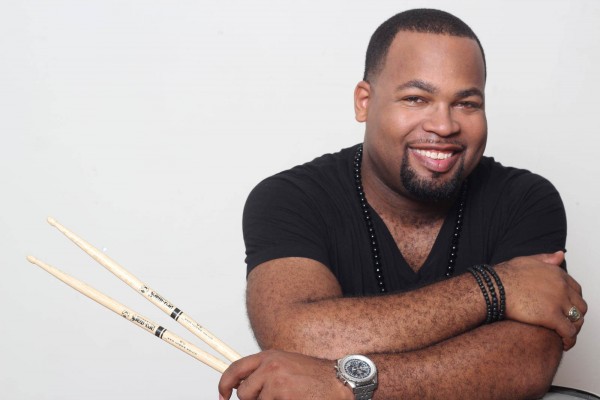 Hello Brandon, how are you doing?
I'm doing wonderful. Music is good… life is good.
Congratulations on the release of your debut album, XII! Although it was released last year, it's never too late to congratulate someone. How long did it take you to record it?
Thanks for the congrats and well wishes. I really appreciate it; no, it's never too late to congratulate someone on something like this! It was a huge accomplishment for me, so again, it's appreciated. How long did it take to record XII? Much longer than expected. Well it took 3 and a half years to get XII completed. It took a while, but I'm very pleased with the finished product. There's absolutely nothing I would change about that album.
For the people who don't know you, could you introduce yourself?
(Laughs) I'm usually not the guy to introduce myself. But as people have read, I'mBrandon Williams… musician, producer, multi-instrumentalist, lover of great music, lover of love, and all around good guy. At least me and a few others think so. ☺
How did it feel to be working with big names such as Frank McComb, Choklate or Robert Glasper on this first album?
How did those collaborations happen?
It felt really good. The crazy thing is, you know, they are big names, but the funny thing is that Choklate approached me to be on my record. I remember she said she got wind of me working on my record, and she sent me a direct message on Twitter. She said "I heard you're working on your album. If you need anything from me, I'm down."
I was taken back and surprised, because to me, this is THEE "CHOKLATE" that I'd been enjoying music from in the past. I played it real cool though and responded with, "Okay cool. If I have something and I need you I willdefinitely reach out to you." I was crazy excited though and I already knew in my head I was going to create something for her, because again, this is Choklate so I wanted to work with her. It was a great opportunity that presented itself to me and I took full advantage to have her on my album. Next thing you know, "Where'd You Come from" was born.
It's an honor to have Frank McComb on my record. I've been a huge believer in his work since I was 21 years old. I'll never forget the first time I heard "Love Stories". That album changed my life. I'm thinking to myself, who is this cat singing like Stevie and Donny and playing the Rhodes like Duke, Herbie, and Patrice?!? I was floored by his level of gifts and it was a great thing to be able to work with someone as brilliant as him. I don't remember exactly how we connected for the album, but I'm glad we did. "Feel Free" is a favorite of many because of speaks to a very real situation that many people deal with in life.
Glasper is my big brother, so he really didn't have a choice. (laughs)
https://www.youtube.com/watch?v=fRgCpIh4wwU
You have worked with many artists, such as Janet Jackson, Jazmine Sullivan, Pharoahe Monch, or even Jadakiss, and you have toured with or opened for Musiq Soulchild, Jaguar Wright, Talib Kweli, The Isley Brothers, or even Raheem DeVaughn, to name a few. Who has been your favorite artist to open for or to work with?
My favorite to open up for was Morris Day and The Time. It was just a joy to watch them do what they do on stage. They were having so much fun. (laughs) I opened up for them in 2001/2002, and I took from them to just have fun and enjoy what you're doing. Take the music serious, but not that serious. Me and Morris actually had a conversation about that, and that's what I took from the whole experience.
My favorite artist to work with would have to be Glasper and I guess that's because, well, it goes back to the fun and love factor as well. I don't know if I've ever had as much fun with anyone else as I did with Glasper in the studio. We just had a ton of fun working together. Cracking jokes, drinking moonshine.. and drinking everything else. (laughs)
What does XII (twelve) stand for? Why did you choose to name it like that?
XII represents the number of "completion" and it's a number that's all around us that we really don't give enough attention to.
How many inches are there in a foot?
How many disciples did Jesus have?
How many months are in a calendar year?
How many diatonic tones are in the westernized scale?
The cycle of completion on a clock?
What age did I start performing professionally.
12. (laughs)
So that's why this album is called XII.
Tracy Cruz, whom I interviewed a few months ago, said that your song Leave Love Be was one of her favorite songs to listen to. Have you two already collaborated or do you plan to work together in the future?
No, we haven't collaborated before. As far as working together in the future, it'll happen when the time is right.
I have listened to your album, which I loved very much, and it was very refreshing to hear so many voices. Wasn't it too difficult to choose the perfect fit for each song?
Thank you very much. I'm elated that you really liked the album! No, it actually wasn't hard to choose the artists for the songs. I knew who I wanted to be on what. I knew what type of voice I needed for a particular track. I just knew what I wanted and I went for that. It just came out as it did. Again, I'm glad you enjoy it.
What are you currently listening to? Could you make us a playlist of your favorite songs?
I've been listening to Joe Sample's "Oasis" album. A little bit of Marvin Gaye. Carol Saboya. Ivan Lins. Also, a divinely inspired song that I wrote has been on repeat. It's called "Eternal Love" and it will definitely be on my next album.
What was the latest album you bought and the latest concert you went to?
The last album I bought? Hmm… Oh, I know what it was. It's is an EP entitled "Water" from "Wildflower", which is actually Andris Mattson of the supergroup, "Moonchild". The last concert I sent to was to see Erykah Badu in December 2014. I perform so much that I don't have a chance to go to live shows, but there are a lot of artists I would love to support. The Internet band is coming to Detroit soon, and I'm hoping I can get out to see them.
What artist would you like to work with?
The artist I would love to work with most is Ivan Lins because he creates the most beautiful music I've ever heard and felt in my life, and really the reason also would be to feel that beauty, to feel the love in which he creates. I don't even know if I would want to produce him even though that's what I do. I would want to be present just to "feel" him.
You are currently doing gigs in the United States. Will we be able to see you in Europe pretty soon?
Yes, in the US always working hard!! I am looking to make moves in Europe soon as well.
What can wish you for the future?
Just to continue to heal people's souls and to create love in people with my music. That's all I want to do.
Thank you for taking the time to answer my questions. We'll keep our readers updated and hope to see you soon in France.
By the way, could you say hi to the SoulRnB readers? 🙂
In the classic greeting of Detroit, to all the SoulRnB readers, "Whatupdoe". (laughs)