Tracy Cruz is a soul/R&B singer. She was born in Quezon City, on the island of Luzon, in the Philippines, and she lives in San José, in California. She has released 2 albums so far (Feel'osophy* in 2008, and Universoul Symphony* in 2011). She's currently recording her third album, and took some of her time to answer SoulRnB's questions.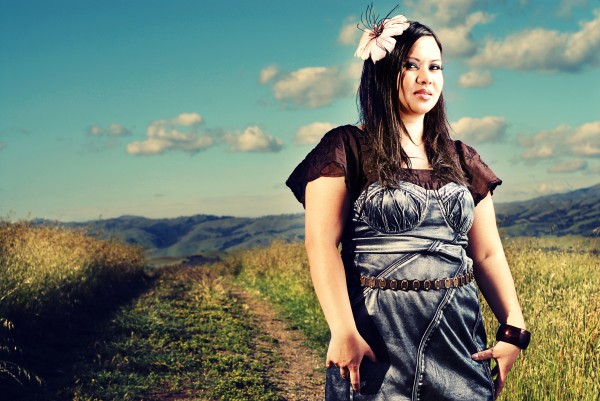 How are you doing?
I'm doing well. Thank you so much.
For the people who don't know you, could you introduce yourself?
My name is Tracy Cruz and I'm an R&B/Soul singer, songwriter, performing/recording artist from San Jose, CA. I was born in Quezon City on the island of Luzon in the Philippines. I'm also a wife, mother of 2, and a youth vocal coach. I've released an EP "Illuminate Love" (2005), and two full length albums "Feel'osophy" (2008) and "Universoul Symphony" (2011).
When did you start singing?
I started singing when I was 2 years old and actively performing on stage at age 12. My grandma and my mother were my first musical inspirations. They encouraged me to sing when I was a little girl!
Before releasing your debut album, soul singer Ledisi was one of your mentors. How did you meet her? What was it to work with her?
Fourteen years ago, I found out about Ledisi through a local radio interview on 106.1 FM KMEL given by radio personality Chuy Gomez. She sang a song live on the air and I was completely blown away by her beautiful and powerful voice. I looked her up on the internet and found out that she was teaching at a music school nearby so I contacted her and signed up for lessons. I was in complete awe when I met her! It was a joy working with her! She was very down-to-earth, knowledgable, encouraging, and had a great sense of humor. She even invited me to sing with her at Cafe Du Nord In San Francisco, CA.
Will you guys record a song together in the future? I'd love to hear your beautiful voices on a song!
I would absolutely love to do a song with her in the near future. I'm praying about it.
You have released two albums so far (Feel'osophy in 2008 and Universoul Symphony in 2011). Was the process of writing different for the two albums? What/who were your influences for these albums?
The writing process for both albums was quite different. When I wrote for Feel'osophy, I was pregnant so I was very emotional. All of the the songs on Feel'osophy were about how I felt at the time. For example, I wrote about the joy I felt being married to my husband Allen on the song I Breathe You. During the creative process for Universoul Symphony, I experimented with a lot of different styles in regards to vocal, songwriting, and musical arrangements. I wanted to step out of my comfort zone and sing and write like I've never had before. Also, my husband/producer Allen Ross and I incorporated different genres of music such as Classical, Electronic, and Hip Hop in the sound of Universoul Symphony. The influences for both of these albums were God, my family, personal experiences and discoveries, and Jill Scott, Amel Larrieux, Janelle Monae, Quincy Jones, Diane Warren, Common, and J Dilla (just to name a few).
Are the lyrics in your albums personal or relate to any personal experiences?
Most of the lyrics in my albums are definitely related to personal experiences. For example, the song "Son-shine" from my album "Feel'osophy" is a tribute to my first born son. I talked about my personal struggles as an independent artist on my song "Dream Flight" from my album "Universoul Symphony". The songs that I write are either a reflection of what I'm going through as an individual or what I see people go through in their lives.
Will you release a third album? Will there be any duets on this upcoming album?
I'm currently working on my third album. I will have at least one duet on this album.
How would define your music?
I would define it as expressive, eclectic Soul.
Allen Ross, your husband, is a producer. How is he involved in your music? Do you often work together? Does he give you suggestions or advice when he's working with you?
My husband Allen Ross is my sole music producer. We have worked on every single song together. During the songwriting and recording process, he has given me great advice. He has taught me how to polish up my lyrical content in songs and how to sing more comfortably and effectively in the studio.
What are you currently listening to? Could you make us a playlist of your favorite songs? Do you have a favorite song you love listening to?
I'm currently listening to J Dilla, Common, D'Angelo, Brandon Williams, Donny Hathaway, KING, Janelle Monae, and Esperanza Spalding.
My playlist would look like (there are more songs that I love too):
1) Leave Love Be by Brandon Williams feat. Alex Isley
2) Really Love by D'Angelo
3) Say You'll Go by Janelle Monae
4) Hey by KING
5) Overjoyed by Stevie Wonder
6) First Love by Kirk Franklin
7) You Are God Alone by Marvin Sapp
8) A Song For You by Donny Hathaway
9) Read All About It by Emeli Sande
10) Viva La Vida by Coldplay
11) Fall in Love produced by J Dilla (performed by Slum Village)
12) This Love by Mary Mary feat. Fred Hammond
My favorite song at the moment is "Leave Love Be" by Brandon Williams feat. Alex Isley.
What was the latest album you bought or the latest concert you went to?
The latest albums I bought were "XII" by Brandon Williams and "Black Messiah" by D'Angelo. The last concert I went to was Eric Roberson's show at Yoshi's in Oakland, CA.
Will you come to Europe to promote your albums? I would love to see you on stage!
I'm praying that I will be able to travel to Europe – that would be a dream come true!
Apart from singing, you are also a vocal coach and a mother. Do your students listen to your music? Do they give you any suggestions or ideas for new songs? Do you often sing with your children? Isn't it too difficult to combine all of it?
Some of my students listen to my music. I'm thankful they have given me positive feedback. They have also asked me for songwriting tips. I sing with my children sometimes, especially my daughter. She really loves to sing! We do vocal lessons together and I help her prepare for her performances. It can be very challenging to combine it all so I do my best to maintain and follow a specific schedule each day. Otherwise, I would end up doing what I feel instead of doing what I need to do.
If you had to write for another artist, who would it be? Why?
I would love to write for my daughter. My daughter is beginning to write her own songs and I would love to nurture and encourage her passion for songwriting at an early age.
What is your own favorite song and why?
My favorite song is "The Greatest Love of All" (sung by Whitney Houston) because it reminds me of the days when I use to sing in front of my grandfathers when I was a little girl. That song holds a very special place in my heart.
What can we wish you for the future?
Please be on the look out for my new album and possibly a national or overseas tour!
Thank you for taking some of your time to answer our questions. We will promote your music in France and keep your fans updated of your news.
Thank you so much for having me! I'm deeply grateful for your love and support! Hope to visit France in the near future.
Both albums are available on http://www.cdbaby.com
If you want to read the french version, click here.