En 1998, un groupe anglais appelé Honeyz faisait son apparition avec un album intitulé Wonder n°8. Créé l'année précédente, le trio était alors composé de Célena Cherry, Heavenli Denton et Naima Belkhiati.
Le groupe était à l'origine un duo composé d'Heavenli et Célena appelé Essence, qui avait été créé par Mercury Records  sur le modèle des girls band R&B de l'époque (En Vogue, Destiny's Child, Eternal …). Le duo sera rejoint par Naima et changera alors de nom.
Au fils des années et des départs (et retours) de certains des membres, 2 autres chanteuses feront également partie des Honeys (Mariama Goodman et Candace Cherry).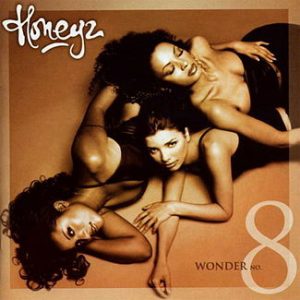 La première sortie de Wonder N°8 aura lieu le 23 novembre 1998. Il ressortira un an après avec 2 morceaux bonus sur lesquels Hevenli Denton, qui a quitté le groupe une première fois, est remplacée par Mariama Goodman.
3 singles seront extraits de cet opus (et 2 de plus dans la seconde version) : "Finally Found",  "End Of The Line" et "Love Of a Lifetime".
Par la suite, malgré la sortie de quelques singles et featuring notamment avec Foxy Brown et sur la BO du film La famille foldingue 2, le groupe sera abandonné par Mercury peu avant qu'il n'ait pu sortir son second album qui devait s'appeler Harmony. Un "Best Of" sortira tout de même en 2006 (The Collection).
Nous vous proposons de découvrir cet opus très agréable, qui alterne morceaux up tempo et ballades, dans sa version 1998. A noter que le morceau "Somebody to Love" a été écrit par un certain Babyface.